Officer for equal opportunities for women in science and the arts
Women's Representatives* of the Faculty of Humanities, Social Sciences, and Theology
At the Faculty of Humanities, Social Sciences, and Theology, gender aspects are examined in research and teaching at the social and institutional level, depending on the individual disciplines. For example, the "career development of university graduates of the University of Erlangen-Nuremberg (BELA-E)" has been investigated with a DFG project since 1995.
Gender-specific socialization takes place in research and teaching, as well. The faculty aims at increasing the proportion of women on all qualification levels and especially in the areas where women are underrepresented. In addition, gender aspects are to be integrated in all fields of research and teaching.
The women's representatives are continuously working on increasing the proportion of women particularly in these departments and those qualification levels in which women are underrepresented.
The UN's Orange The World campaign has been drawing attention to violence since 1991: from the International Day to End Violence Against Women on November 25 to December 10, Human Rights Day. UN Women Germany has chosen "Stop Violence Against Women" as the theme for its Orange The World campaign this year.
The Women's Representatives of the Faculty of Humanities, Social Sciences, and Theology would like to help spread this message at the Faculty of Arts and Sciences and offer support to those affected. For more info on the topic and FAU's policy on preventing and dealing with cases of discrimination, harassment and sexual harassment, please visit: https://www.gender-und-diversity.fau.de/english/sexual-harrassment/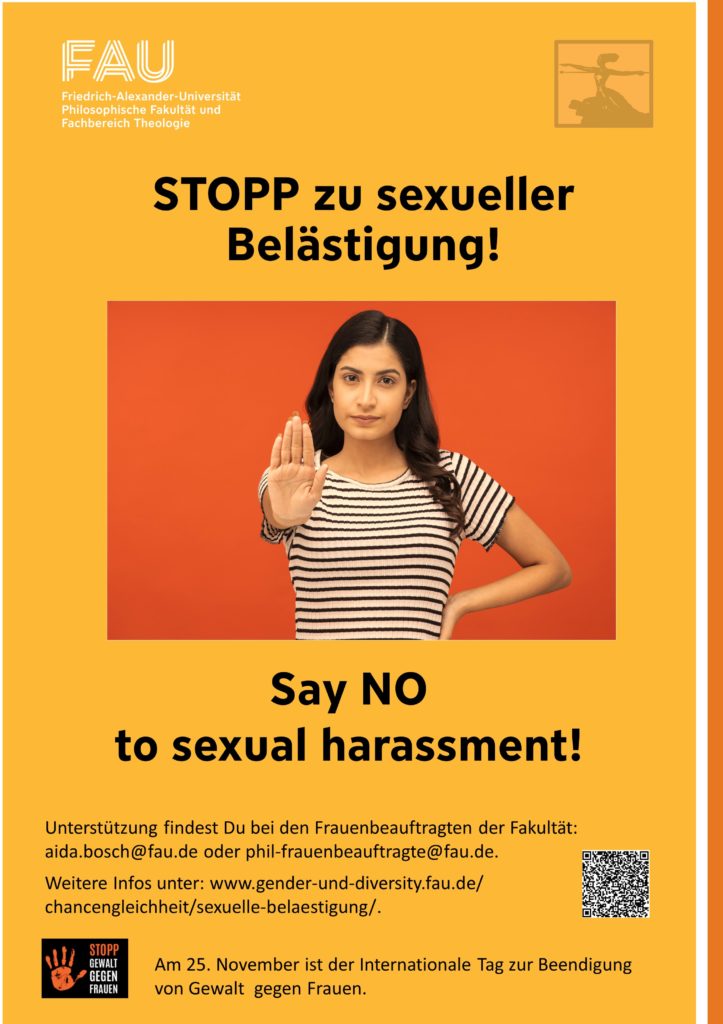 *To improve readability, the term "women's representative" is used below. The title of the "Advisor to the Officers for equal opportunities for women in science and the arts" has also been shortened.