Research at the Faculty
Research at the Faculty
Agile Research Structures
In collaborative research, the Faculty of Humanities, Social Sciences, and Theology relies on Agile Research Structures. Within this flexible system, the faculty offers all its members who wish to conduct collaborative research at the faculty greater transparency, better visibility, and a straightforward support system.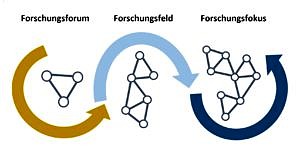 Forschungsforum (research forum)
Associations of researchers at the faculty who want to conduct joint research on a topic and have already completed their first joint publications, projects and events.
Research forums at the faculty:
Diversität und Globalisierung in der Antike
Forschungsfeld (research field)
Forschungsfokus (research focus)
Interdisciplinary associations of researchers at the faculty who have been successfully researching and publishing together for several years.
There is currently no research focus registered at the faculty.
In general, registering an agile research structure is possible under the following conditions:
All researchers of the faculty can register one of the formats. Registrations are possible at any time.
Each format always requires active research cooperation.
Each format is associated with specific funding formats.
Interdisciplinary Centres
The faculty also has a long tradition of active and vibrant Interdisciplinary Centres, which create discursive spaces for longer-term and broader thematic complexes in research, teaching, and outreach. They are central to interfaculty communication. The FAU Interdisciplinary Centres related to research in the humanities, social sciences and cultural studies at the faculty are:
Further Information
Information on registration, formats and related funding measures can be found on the FAUbox* (folder: Dean's Office – Office for Research). Please send your application directly to the Office for Research and Young Researchers. We also are happy to answer any questions you may have.