Office for Research and Young Researchers
About us
Contact person
Büro für Forschung und wissenschaftlichen Nachwuchs (Philosophische Fakultät und Fachbereich Theologie)
Serviceeinheiten der Philosophischen Fakultät und des Fachbereichs Theologie
Office for Research and Young Scientists
Büro für Forschung und wissenschaftlichen Nachwuchs (Philosophische Fakultät und Fachbereich Theologie)
Serviceeinheiten der Philosophischen Fakultät und des Fachbereichs Theologie
Office for Research and Young Scientists
How we can help you
Information and counselling for scholars
Information on third-party funding programmes, scholarships and current tenders (ELFI research)
Further development of third-party funded research
Support and advice during the application process for research projects (cross-reading of applications)
Participation in the design and coordination of projects
Research-related public relations, research documentation and preparation of the research report
Lectures and workshops, research funding events and joint projects
Grants for research related conference visits abroad
The Faculty of Humanities, Social Sciences, and Theology promotes young researchers in the humanities and social sciences and the further internationalisation of research at the faculty by means of a specially designed programme. The aim is to support young researchers (doctoral students, postdocs, associate professors), for example through active participation in an international scientific congress. The subsidy consists of the participation in the resulting travel and subsistence costs, including the congress fee of up to 100 percent.
Merkblatt Zuschüsse für Kongressreisen ins Ausland

Applications for financial support of congress trips abroad must reach the DAAD at least four months before the first day of the congress..
Please submit the application form Antragsformular Kongressreise Philosophische Fakultät 

by e-mail as a pdf file to the research office.
Start-up funding for your project idea
The committee for allocation of BMBF/DFG overhead funding – Faculty of Humanities, Social Sciences, and Theology provides a start-up funding for faculty members. The committee's aim is to promote the acquisition of peer-reviewed third-party funding (in particular DFG funding) at the Faculty. In order to achieve this, it focuses on providing support during the early stages of project development by providing start-up funding. The start-up funding is designed to support young researchers in particular.
Workshops and Trainings
The office for research and young researchers offers events and workshops for all scientific career stages on topics around the application for and acquisition of third-party funds. Requests for special event formats can be forwarded to the office for research and young researchers.
ProFund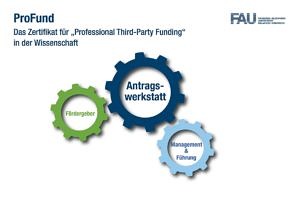 ProFund schools young researchers of the faculty, in particular postdocs, habilitands and junior professors with little experience in the acquisition of third-party funds.
The goal is to provide know-how how to develop one's own project ideas, how to apply for third-party funding and how to handle and implement third-party funded projects. The programme qualifies for a promising application and implementation of a third-party funding project, for example, from DFG, EU, or renowned foundations or the BMBF.
To obtain the ProFund certificate, the following modules have to be covered:
Module 1 – donor organisations
Module 2 – application workshop
Module 3 – management & leadership
You can register for the individual seminars via the Graduate Centre and apply for the certificate after successful participation.
The programme is offered in German only.
Training Elektronische ForschungsförderInformationen – ELFI

ELFI collects and processes information on research funding and offers extensive research options. As part of the training, you get to know the functionalities of the ELFI database and try different search strategies.
When? 27 June 2018 from 9.30am to 11am at C 701 CIP-Raum, Bismarckstr. 1, Erlangen
Registration until 20.06.18 to phil-forschungsnews@fau.de
Promotion of research projects
Selected research sponsors
Funding and scholarship databases
How to find us