How to design your individual schedule
Your individual schedule
Right before the start of the semester, you plan and design your individual schedule. This schedule will ensure you when and where to attend which course.
Look at the study plan in the Degree Programme and Examination Regulations of your degree programme. Take the information about when to attend which lecture from the column "distribution of workload per semester in ECTS credits".
Look at the lecture directory (UnivIS) to check when and where your courses will take place, and if and how you have to register for them.
Some courses are accompanied by tutorials not mentioned in the study plan of your programme (but listed in the lecture directory). They are not compulsory, but we recommend to attend them. Some degree programmes offer tutorials for international students  that offer additional support in coping with the content and the terminology of the subject.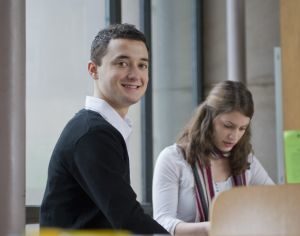 Good to know
How to find the relevant courses in UnivIS
Language courses as part of a degree programme: see lecture directory -> Language Centre (SZ)
Latin courses: see lecture directory -> Faculty of Humanties, Social Sciences, and Theology -> Mittellatein und Neulatein
How to design your individual schedule when you are a student teacher
See Hinweise zur Stundenplanerstellung für das Lehramtsstudium (in German only)
As a student teacher, please turn to Zentrum für Lehrerinnen- und Lehrerbildung for professional help:
Lehramt Realschule/Gymnasium (Erlangen): manuela.linsner@fau.de
Lehramt Grund-/Haupt-/Realschule (Nürnberg): studienberatung@ewf.uni-erlangen.de