Honorary doctorate awarded to Prof. Dr. Elisabeth Bronfen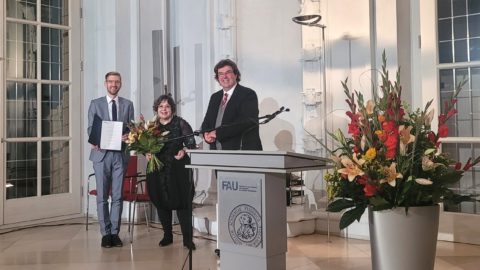 On October 12, 2021, Prof. Dr. Elisabeth Bronfen was ceremonially awarded an honorary doctorate in Philosophy. Dean of the Faculty Prof. Dr. Rainer Trinczek presented her with the certificate and honoured the English Studies researcher's achievements in science, science communication and of course at the Faculty of Humanities at FAU, with which she has been in close collaboration for decades. Prof. Dr. Elisabeth Bronfen is Chair of English and American Studies at Zurich university and has been a Global Distinguished Professor at New York University since 2007. Since 2019, she also holds the title of Ambassador of the FAU and is the first woman and first researcher from Arts and Humanities to do so.
Laudation: A short portrait of Elisabeth Bronfen
The laudation was held by Prof. Dr. Heike Paul, who has worked together with Elisabeth Bronfen in multiple projects over the course of many years. The audience at the Orangery as well as those who were following the event online got to learn a lot about the honorary guest. Born in Munich, Bronfen started her academic career in the United Stares at Radcliffe College, Harvard. She returned to her hometown afterwards and continued her research at LMU, where she finished her doctorate and habilitation. In 1993, she received a call to the Chair in English and American Studies from Zürich University, and she has been holding it ever since.
Heike Paul accompanied Bronfen's biography with parallels to iconic Hollywood movies, like the Tennessee Williams' 'Cat on a Hot Tin Roof' or Hitchcock's 'Vertigo', both of which were released in Bronfen's birthyear, or the surge of Shakespeare adaptations 'made in Hollywood' – a trend that appeared at the time of her call to Zürich.
These parallels were not stylistic alone: The renowned researcher has not only dedicated her research to Hollywood movies – she has developed her own theory which explicates that Hollywood productions which are often vilified in European academic institutions do possess both intellectual and artistic originality and complexity. She traces the legacy of Shakespeare in American Pop Culture, studies fictional female American Presidents from TV and cinema, and beyond that, she shows how these cultural phenomena are interconnected.
It is this exact 'crossmapping' that she excels at, a method that 'fruitfully' connects the 'image-shapes and thought-figures' of very different cultural products – such as Shakespeare and US TV shows or a Beyoncé music video and 'Moby Dick'.
Elisabeth Bronfen's research is often concerned with women: In her habilitation, she examined allegorisation of dead women, with unappreciated or forgotten female artists, so-called (female) hysteria, and lately with stigmatization of the female body in her book "Angesteckt: Zeitgemäßes über Pandemie und Kultur" (approx.: "Infected. Contemporary Thoughts on Pandemic and Culture.")
The ceremony did not feature the legendary phrase "and the Oscar goes to…" – but the Faculty of Humanities, Social Sciences and Theology pays tribute to this extraordinary scientist, advocate for the Arts and Humanities and (not only) women in academia, with the award of an honorary doctorate. Congratulations to Prof. Dr. Dr. (h.c.) Elisabeth Bronfen!